3 Reasons Why You Shouldn't Be Nervous About Dental Implants
Whether you've had an accident that knocked a tooth out or you had one that never grew in Dental Implants can restore your imperfect smile to a full and gleaming one.  Dental implants have earned a reputation among dentists as a safe, durable, and life-like solution to a missing tooth. Dental work can be a daunting prospect, but hopefully these reassurances will help calm your nerves and get you to your ideal smile.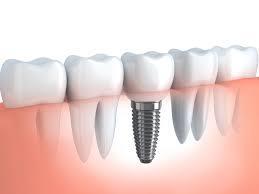 Dental Implant Procedures Are Done with Local Anesthesia
Since dental implants involve a very localized surgery, it makes sense that a local anesthetic would suffice to provide you with an easier time in the office. Implantation is actually frequently easier than extraction, so if you've handled the out, you can handle the in. Local anesthetic will numb the implant site and surrounding tissue, all while you remain conscious. Don't worry — if you have anxiety about the surgery and you'd prefer a fuller sedation, we do offer Nitrous oxide; you can talk to Dr. Luka about.
The Implant Procedure is Very Carefully Planned
In the grand scheme of surgeries, dental implants are relatively minor because the procedure is minimally invasive and all the details are mapped out well before the procedure begins. Dr. Luka will work with you through as many consultations as are necessary, using advanced medical technologies like digital x-ray imaging, to plan exactly what will be done, down to the millimeter.
Care for Your Teeth Easily
Caring for an implant-supported crown is the same as caring for natural teeth. It's easy. As we say at Luka Dental Care "eat, floss, brush"! Once dental implants are in, you simply should treat them like regular, natural teeth. And smile like they are, too!